Services & Programs
Lost and Found
LOST A PET?
FOUND A STRAY?
Please check our

Lost and Found


page here.

FELINE INFECTIOUS PERITONITIS
... F. I. P.
The worst three letters a cat-lover could ever hear.
FRIENDS OF THE FORMERLY FRIENDLESS is proud and excited to be a founding member of the new S.O.C.K. FIP research project. S.O.C. K. is the acronym for Save Our Cats and Kittens.SOCKFIP is a group of cat-lovers, breeders, rescuers, shelters and vets working together to generate essential funding for FIP research at the UC Davis Center for Companion Animal Health. Virtually 100% fatal, FIP strikes 1 in 100 of all cats. We know that most cats acquire the FIP virus early in life, though actual disease signs may not occur until weeks, months or even years later.
Right now, there's no prevention and no cure for FIP. It's time to change all that - and it can be done! Through the very exciting and promising work at UC Davis, we hope to learn how to prevent FIP or find suitable treatments, and spare future generations of cats and cat-lovers this nightmare. Because very little government funding is available for companion animal studies, we are relying on the vast community of cat-lovers to help.
HISTORY OF FIP RESEARCH
After devoting a half century of his life to studying feline infectious peritonitis (FIP), a deadly feline coronavirus, Dr. Niels Pedersen now finds himself in the unusual position of responding to media inquiries about SARS-CoV-2, the human coronavirus that causes COVID-19.
The drug he discovered to be highly effective in curing FIP, known as GS-441524, turns out to be a close antiviral cousin of remdesivir—the first drug found to speed people's recovery from COVID-19 in clinical trials.
"While coronaviruses are found in most animal species, they don't attract a lot of attention unless they are particularly virulent or deadly," said Professor Emeritus Pedersen. "This COVID-19 pandemic has drawn attention to the parallels between human and veterinary medicine that hopefully will help the public LEADING VETERINARY MEDICINE, ADDRESSING SOCIETAL NEEDS understand the critical connections between human and animal health."
Pedersen has a soft spot for cats after growing up with them on his family's poultry farm. When he came to UC Davis in the 1960s, FIP was still a mysterious disease with an unknown cause that killed the majority of infected cats. Over the decades, he and other scientists discovered the feline coronavirus behind FIP but finding a vaccine or an effective treatment proved difficult. That's where Pedersen poured his research endeavors—finding a cure for FIP.
Dr. Brian Murphy joined the UC Davis faculty in 2007 and after Pedersen semi-retired in 2010, took over the feline coronavirus program. Murphy was first author on the groundbreaking 2018 article in Veterinary Microbiology showing GS-441524 had been successful in curing all 10 FIP-infected cats in a small study. A follow-up field trial of 31 cats had a high success rate as well.
The study results seemed to herald the breakthrough that Pedersen had been seeking for decades. But for desperate pet owners seeking a cure, obtaining this new drug would prove elusive. Gilead, the biopharmaceutical company that developed GS-441524, withheld the rights for its use in animals because it might interfere with FDA approval for a prodrug form called remdesivir. The hope is that remdesivir will be approved by the FDA for general use in human viral diseases like COVID-19, thus paving the way for approval and legal use of GS-441524 for animals by veterinarians.
Read the full article here
published by
The Center of Companion Animal Health.
SUPPORT FIP RESEARCH AND SOCK IT TO FIP!
CHECK

Payable to:
SOCK FIP
Mail to:
SOCK FIP
P.O. Box 602

Davis, CA 95617

CREDIT CARD

If you would like to make a gift using your credit card,
please call UC Davis at (530) 752-7024.
For more info, please visit the SOCKFIP.org website.
WAYS YOU CAN HELP FIGHT F.I.P.
Refer friends and family to SOCKFIP.ORG

Tell your Veterinarian about SOCKFIP.ORG

Distribute SOCKFIP brochures

Become a fan of SOCKFIP page on Facebook

Contribute to SOCKFIP

Ask your club to support F.I.P. Research through donations

Ask your employer to match funds to F.I.P. Research donations

Hold a fundraiser for F.I.P. Research
SOCKFIP PRESENTATION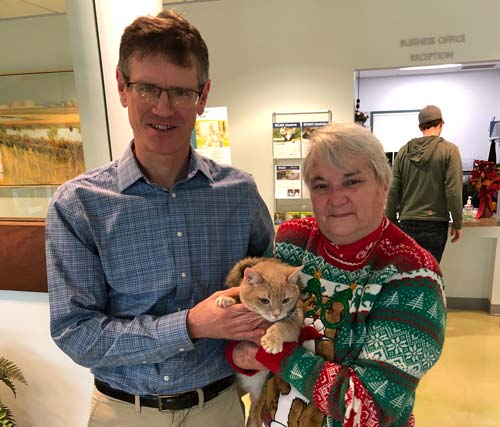 DECEMBER 19,2019, FFF attended a Holiday SOCKFIP meeting at UCDavis Animal Companion Health Center to learn about the ongoing work to conquer FIP.
FFF representative, Sally Morgan- Welch, attended the meeting along with our HERO kitty, MEREDITH and FFF new therapy cat trainer, Mr. WHISKERS.
Dr. Brian Murphy and graduate student, Sarah Elisabeth Cook, updated SOCKFIP on the current studies being planned and past successes with antiviral drugs.
The meeting was particularly poignant as MEREDITH, our HERO kitty was reunited with Dr. Murphy as one of the kitties CURED of wet FIP in their landmark studies on antiviral research.
Unfortunately, Dr.Niels Pedersen, the " father of FIP research", was unable to attend due to family emergency. But MEREDITH is due to reunite with Dr.Pedersen soon. It was he who approved the adoption of MEREDITH to FFF founder after her cure from FIP.
There is a myriad of antiviral drugs now scheduled for testing and then final FDA approval. Each drug will undergo rigorous testing on private owned cats diagnosed with FIP in the future.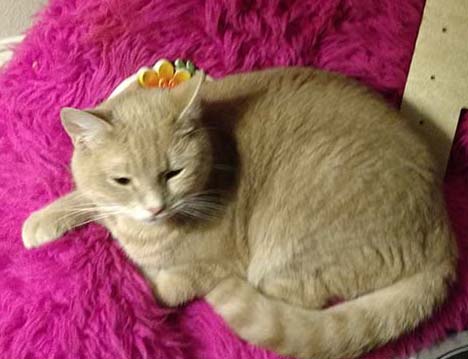 MEREDITH has become THE FACE OF FIP SUCCESS!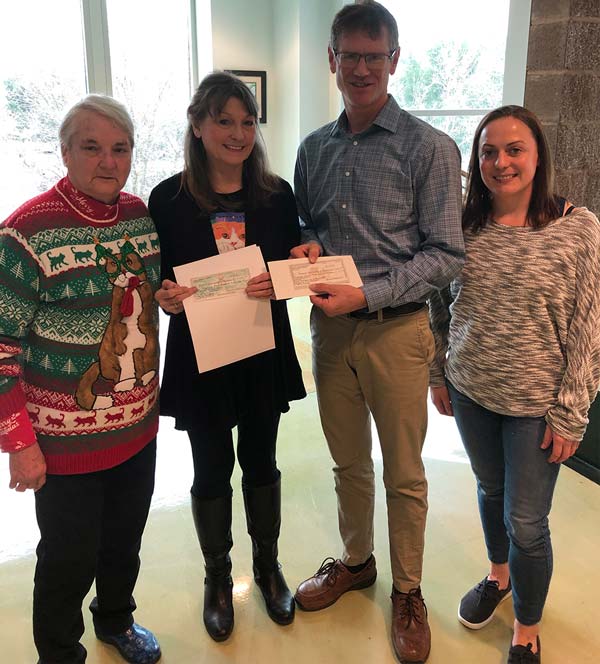 SOCK-FIP President, Carol Marshall, and SOCK-FIP Member, Sally Morgan Welch, presented Dr. Murphy and his staff with a donation check of $27,000 along with a personal check from President Carol.
We are ON THE BRINK OF SUCCESS!
Your donations are more important than ever to HELP CONQUER FIP!