New Beginnings
We, at FFF, strive to connect our "formerly friendless critters" with responsible, loving and caring homes. When someone adopts one of our "formerly friendless animals", it brings us great joy. In celebration of those who have found loving and forever homes, we would like to share their stories of their "New Beginnings".
A NEW BEGINNING...
JASPER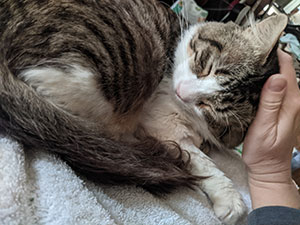 JASPER'S story began when a compassionate young woman became concerned about a nameless bedraggled and ill kitty that was returning to her yard seeking food and help.
FFF and the young woman joined forces to arrange for her to bring him inside and foster him. FFF arranged for a much-needed vet visit that resulted in immediate medical care for his skin condition and upper respiratory infection. He also was neutered to ensure he will be free from any risk. He also was diagnosed with a mild heart murmur and elevated heart values. Despite these issues, the compassionate young woman took him on ... and gave him the lapidary name JASPER as her Mom worked with precious and semi-precious stones.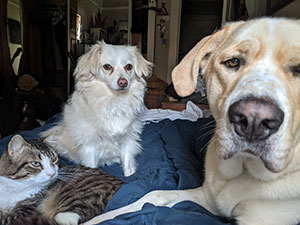 JASPER is making a full recovery with no complications ... and expressing his gratitude for his new "person" and life with affection and spontaneous bounds across the room! He is learning to accommodate the resident dog and vice versa. It was no surprise when FFF learned that this compassionate young woman told FFF she would be adopting him!
Funny ... how do cats know who to come to ... and sense who needs them, too?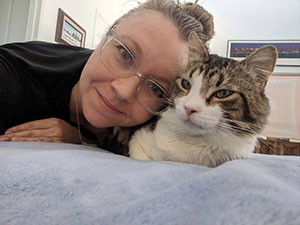 We wish JASPER and his new Mom many happy and loving years together,
As always, FFF will stand by to help so that JASPER will be a "formerly friendless" kitty no more!
If you are ready to provide a NEW BEGINNING to a needy animal, please take a moment and look though our Adoptable Critters.

Also, you can browse through our gallery of adopted friends on PetFinder.com's Happy Tails. We hope that the stories from our Adoptees will inspire you to open your home and heart and become a "Friend of the Formerly Friendless!"