Want to Help?
NEW FUNDING OPPORTUNITY
WITH IGIVE!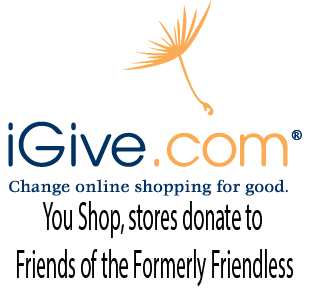 With AmazonSmiles no longer supporting non-profits, Friends of the Formerly Friendless has signed up with iGive. iGive works with over 2000 online retailers such as Walmart, Macy's, Chewy.com, and so much more. Each of the retailers donate a percentage, usually 1 to 2 percent, with some as much as 18! This is great news for all as you get great deals on the stores that partnered with iGive and FFF gets free donations. A win-win for all!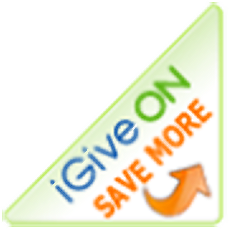 Safe, Secure & Smart Ways to Give.
Create your free iGive account. After that, all you need do is shop through the iGive.com website, newsletters, or install the optional iGive Button to make sure you never miss an opportunity to raise money when you shop online. It's all automatic, and it's all free of charge. iGive lets you control your membership information with a private password. You can review your store visits and purchase/donation history, and confirm the total amount raised and distributed to your cause. iGive values your privacy and will never release shopper information without consent. And there are no hidden fees or extra costs when you shop through iGive. Start iGiving at: www.iGive.com

Once you have signed up, look for the tiny iGive ON SAVE MORE triangle at the bottom, right-hand corner of the page. You can also view the donors on the iGive webiste. .
| | | |
| --- | --- | --- |
| | IS YOU PET A WORK OF ART ? | |
The Perfect Gift For That Animal Lover In Your Life!!
Friends of the Formerly Friendless has started a new fundraiser. We can now take a photo of your favorite pet(s) and turn it into art. May it be stylish neon. Andy Warhol styled, or Van Gogh styled watercolor, you send us your photo and we will send you various styles for you to choose from.

The image you send does not need to be high quality as we will make the necessary adjustments for you. All we need is a clear photo of your pet(s) and we will take care of the rest. We will send you 4 variations for you to choose from.

Once you choose your style, we will send you a high quality image for $25 that you can either take to have made it into a photo or framed. Or, you can have it printed on canvas. For $50, you get an 1?'x14" print or for $73 you can get an 18"x24". Depending on how the picture is taken, the image will be either landscape or portrait.

These unique "works of art" make wonderful gifts for that special person in your life.
HERE IS HOW IT WORKS ...
Step 1

Email your pet's image to

[email protected]

.

Step 2

Proofs will be emailed to you to approve.

Step 3

Choose which proof you want and email us so we may create your selected specialized image(s) or indicate if you would like it reproduced on canvas.

Step 4

Remit the payment for your specialized image using the PayPal methods below (PayPal, Debit or Credit Card). Remember, images cost $25 while canvases cost $50 and $75 depending on the size.

Step 5

Your specialized image will be emailed directly to you. If you choose one of the canvases, it will be mailed to you directly from the company we will be using. Please include address so we may ship the canvas to you. Sorry, but the company we use does not ship to PO Boxes.
Note: Depending on the dimensions of your photo, the Andy Warhol effect may be a 6 or 9 block image.
Image Checkout

If you would like to order just the image, please use this checkout option.

Small Canvas Checkout

If you would like to order an 11"x14" canvas, please use this checkout option.

Large Canvas Checkout

If you would like to order an 18" x 24" canvas, please use this checkout option.
SPECIAL EFFECT EXAMPLES ONLY
for how your pet might look...
Hover mouse over images to enlarge samples of various cats and dogs colors and fur textures.
Current customer results
Priscilla, white cat.
| | | | | |
| --- | --- | --- | --- | --- |
| Original photo | Neon | Watercolor | Airbrush | Andy Warhol |
Golddust Yorkshire Terrier
Redmond, orange-tabby cat
| | | | | |
| --- | --- | --- | --- | --- |
| Original photo | Neon | Watercolor | Airbrush | Andy Warhol |
Teddy Joe, long-haired tabby cat
| | | | | |
| --- | --- | --- | --- | --- |
| Original photo | Neon | Watercolor | Airbrush | Andy Warhol |
Charlotte, medium haired calico cat
| | | | | |
| --- | --- | --- | --- | --- |
| Original photo | Neon | Watercolor | Airbrush | Andy Warhol |
Trio of kittens
Red Husky
Contact FFF at [email protected]
if you want to see how your favorite pet(s) look like as art.
General Email:

Phone:

Sally - (925) 808-8364

"Catmail":
(whenever it gets there)

Friends of the Formerly Friendless
P.O.BOX 863
Penn Valley, Ca 95946
We understand that for some of you, adoption or fostering is currently not an option. However, there are many ways you can help us help the animals. Here are just a few.
Donations are tax deductible.
We are a recognized 501(c)(3) organization.
Donations of monies or supplies.
Donations of Services
Bequests
Memoriams
Sponsoring of Fund raisers
Whatever you choose to do, the donations will go to the care of the animals and to support our Programs and Services. We are a volunteer organization with no paid staff or promo department. With your help, we can continue to make a difference in the lives of the animals we care for and to help the people whose lives are touched by them.
We are a recognized California non-profit Animal Rescue organization. We are recognized by the State of California and the Internal Revenue Service as a 501(c) (3) non-profit. All contributions are tax deductible to the fullest extent of the law.



Click the Donate button above to donate directly to
FFF via Paypal.




Welcome

iGive

Shoppers!

Visit Chewy.com to donate food for FFF. Our kitties thank you.




FFF's Bart

Sponsor a Kitty...
For 2022!





FFF's Reginald




CAN'T FOSTER? • CAN'T HAVE A CAT WHERE YOU LIVE?
CAN'T ADOPT NOW? • GOT A HOUSEFUL?
ALLERGIC TO CATS BUT LOVE THEM?

YOU CAN STILL HELP OUR KITTIES!




FFF's Martin

You can sponsor a kitty with a donation amount of your choosing to help us with our ongoing maintenance and care of our FFF "formerly friendless felines". Your donation will go to the care and maintenance of the kitty(s) that you choose. Just visit our Adoption List and SELECT a kitty that you want to sponsor.

You may then contribute an amount of your choosing, to the care and maintenance of that chosen kitty. The monies we receive will be applied to food, medical care, and maintenance of that chosen kitty. Just WRITE THE CHOSEN KITTY(s) name on the bottom of your check.




FFF's Emily

You can also make a contribution of your choosing that benefits ALL of FFF's needy kitties. Your contribution will be put into our general fund for the benefit of all of our kitties.

Payment can be made directly to FFF via paypal or personal check.

If you wish, you can contact us at 925-808-8364 for updates on your chosen kitty and be a "VIRTUAL FRIEND" to that or all of the FFF "formerly friendless felines".

ANY and all sponsorships are greatly appreciated and rest assured will be put to good use for the benefits of the kitty(s). We have no paid staff from these funds so it will directly benefit the kitty(s) you have chosen.




THANK YOU FOR YOUR SUPPORT FROM THE FRIENDS OF THE FORMERLY FRIENDLESS!



• Selling your house?
• Buying a new one?
• Know someone who is?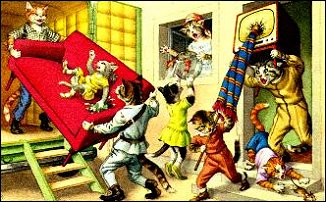 Our pet friendly supporter / Realtor, Bonnie Andrews, has extended a generous offer to FFF referrals! For every FFF referral that results in a finalized contract with her, she will DONATE 10% of her commission to FFF!
A win win situation for all... a dedicated, pet-friendly Realtor, to work with you to meet your needs, and. you can help our FFF Medical Fund that helps needy FFF fosters and community animals. You can contact Bonnie Andrews at:
Bonnie Andrews
Windermere Realty
Email : [email protected]
Cell Phone: 510-478-8266